What are the benefits of a spa moment ?
Vous souhaitez prendre soin de vous et connaitre les bienfaits d'un moment spa ? Consultez cet article pour découvrir ses bienfaits !
Everything you need to know about the benefits of a moment at the Spa?
The term Spa comes from the contraction of a Latin expression "Sanitas Per Aquam", meaning health through water. A SPA is also an establishment of aesthetic care or fitness using hydrotherapy.
Each facility has its own benefits, but in general, a wellness session provides psychological, physical, metabolic or physiological benefits.
At the Golden Lakes Five Worlds Spa, there are many different relaxation methods and facilities: Jacuzzi, traditional sauna, salt sauna, eucalyptus steam room and infrared bench. All of which will provide you with a varied and optimal relaxation.
---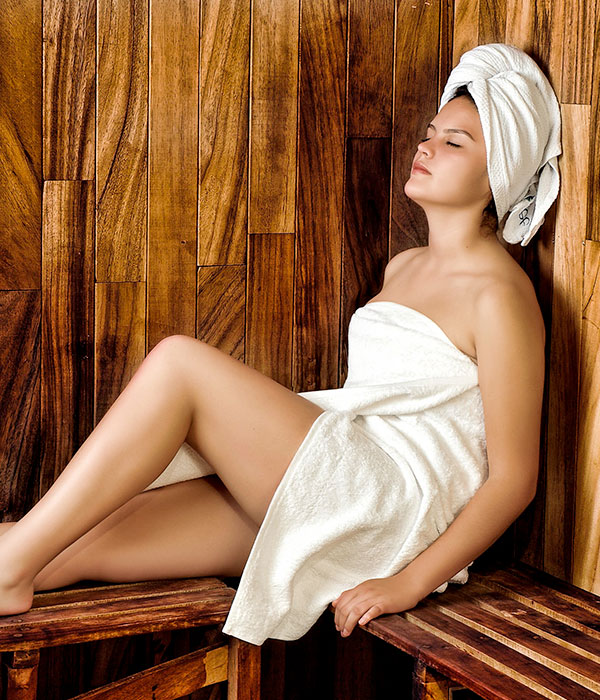 ✔️ A date with yourself
A session in a natural wellness center in Belgium allows you to disconnect from the networks and let go in a calm and serene environment.
The spa is an appointment with oneself because it offers a space to relax, recharge and focus on our own well-being. It is a time to disconnect from the outside world and reconnect with our bodies and emotions.
Spa treatments are designed to help improve physical and mental health, and by making an appointment at a spa, we give ourselves a break from our busy lives to focus on ourselves and make ourselves feel good.
✔️ Growing popularity
Over the past few years, wellness has become more and more a part of our daily lives. More and more people are realizing the importance of taking care of their bodies and minds to maintain long-term health. Whether it's occasionally or regularly, taking care of ourselves is becoming a part of our lives.
The spa is also gaining popularity among individuals who are involved in high intensity sports as it allows for improved performance and faster recovery.
✔️ An experience that feels good
The Spa encourages the production of several hormones, which have long-term effects. Indeed, its effects are not temporary and a regular practice in a wellness center has therefore lasting and constant effects.
And beyond your health and well-being, the spa is also beneficial for your skin. Your skin is cleaned thanks to the steam: the pores of the skin dilate and allow dead cells and impurities to be eliminated and regenerated naturally.
In our Cinq Mondes Spa hotel, we offer a wide range of treatments at affordable prices, allowing more people to enjoy the benefits of the spa.
Looking for an experience tailored to your needs? Several offers are available at our Spa-Hotel;
---
Convinced by our article? Make an appointment!
The elements in this article have helped you define your desires and see more clearly the benefits of a session in a wellness center? By appointment, the Cinq Mondes Spa at the Golden Lakes Hotel is at your disposal for information on the facilities, treatments, massages or the float spa.