Le Pays des Lacs - The Land of Lakes
IDEAL HOLIDAY DESTINATION
Looking for an original holiday destination in Belgium for your next stay as a couple? With the family? With friends?
A place where you can relax while also making use of different infrastructures?
The Pays des Lacs is that ideal destination!
Nested in an environment that favours relaxation, the Pays des Lacs has all the essential infrastructure for the success of your stay.
IN THE HEART OF THE BELGIAN ARDENNES
Straddling the border between the Provinces of Hainaut and Namur, in a unique natural setting in Belgium, the Pays des Lacs is less than an hour from Brussels, the major cities of Wallonia (Charleroi - Mons - Namur) and only a 20 minute drive from Brussels South Airport.
Setting out from the Pays des Lacs you are already almost in France, very near the region of Hauts de France. Big European cities, such as Paris & Amsterdam, are only 3 hours away.
EUROPEAN DESTINATION OF EXCELLENCE
The 1,800 hectares of water and forest in the Pays des Lacs, plus the comprehensive range of walking, aquatic, culinary and cultural activities on offer, have made this estate an exceptional place.
In 2010 the European Union awarded the much-coveted EDEN (European Destination of Excellence) label. So, Pays des Lacs and Eau d'Heure are now officially recognized for the sustainable development of a touristic project with an ecological character.
---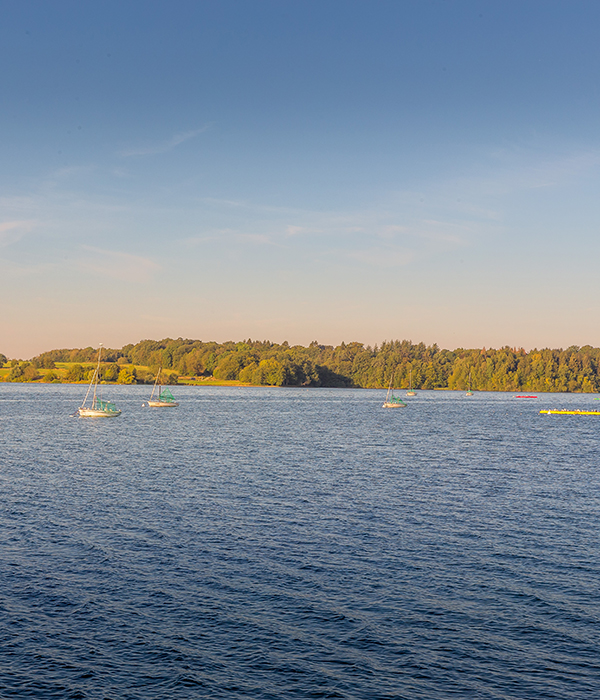 EAU D'HEURE LAKES
SOMETHING FOR EVERYONE
The Eau d'Heure is a small stream rising in the Fagnes, a region in the south of Belgium, and flowing into the Sambre at Marchienne-au-Pont.
In the 1970s the Walloon Region decided to build a hydroelectric power station there with an artificial reservoir. The Eau d'Heure Lakes were formed.
In 2010 the European Union certified the Eau d'Heure Lakes with the EDEN (European Destination of Excellence) label. This prestigious status makes this out-of-the-ordinary natural place an ideal destination for a wellness visit in perfect harmony with nature.
FIND OUT MORE
---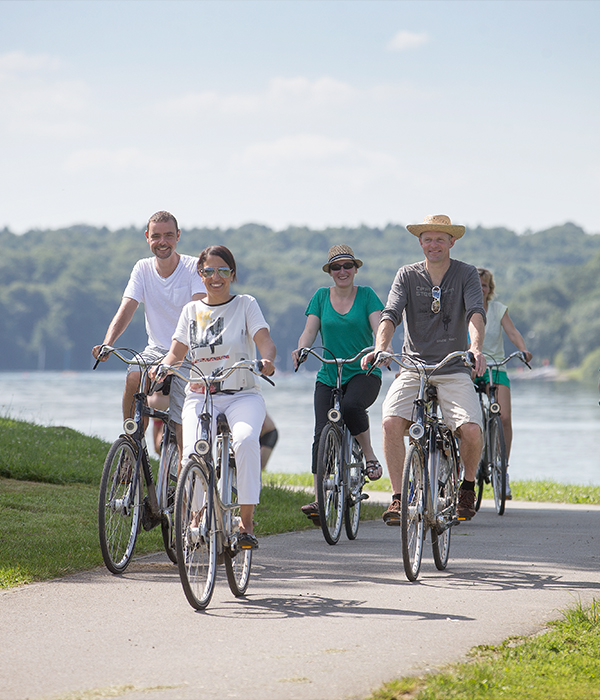 Activities
Visitors to Pays des Lacs are offered many and various leisure, sporting and relaxation activities.
In a unique decor in Belgium, nature lovers will surely be spellbound by the Eau d'Heure Lakes.
A true haven of peace and quiet, there's always something to do on the estate, for young and old alike.
The 70km of RAVEL paths winding around the banks of the lakes invite you to enjoy nice long walks or bicycle rides while appreciating the beauty of the landscapes.
Anyone keen on water sports can choose between numerous aquatic activities, such as jet ski, water ski, kayak and much more besides.
For more information on all the activities offered at Pays des Lacs you can consult our "Activities" page.
ALL ACTIVITIES OF THE EAU D'HEURE LAKES